Olga Shishkina was born in 1985 in St.Petersburg.
From 1992 until 2000 she studied gusli, piano, balalaika and guitar at the Andreev School
of Music and graduated from it with a diploma with honours. In 2003 Olga entered Saint
Petersburg State Conservatoire where she is studying now in the class of Irina Ershova.
Olga has won many prestigious competitions, among them the International Youth
Andreev Competition (1996, 1998, 2000, St. Petersburg), but the most important
achievement was the the win in 6th All-R
ussian Compe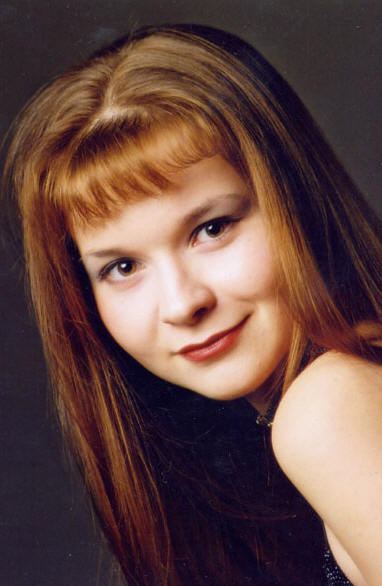 tition (2001, Tver) where she
became the youngest winner in the competition's history.

During her musical career Olga has been awarded a prestigious grant from the Russian
Ministry of Culture, the "Young talents" grant from the St.Petersburg Government,
and the scholarship from the "New Names" foundation. Olga also won the title
"Hope of Russia" and "The Star of Prometei", award of The World-Wide Petersburgers'
Club. In 2003 she appeared on TV playing for a program dedicated to Gusli on the
Culture Channel.

Since 2001 Olga has been playing with many well known Russian folk orchestras, such as Osipov National Academical Orchestra (Moscow), Dubrovsky Orchestra of Smolensk, Shalyapin Orchestra of Vyatka, St.Petersburg Conservatoire's orchestra, Moscow "Gusliars of Russia". She has also played with 2 symphony and 2 Swedish orchestras - Sodra Bergens Balalaikor and Gotland's Balalaikor. Olga also participated twice in one of the world renowned Mariinsky theatre settings, having played the Gusli part in the Rimsky-Korsakov opera "The Legend of the invisible City of Kitezh and the Maiden Fevronia".

From 2001 on Olga has been performing a lot with her concerts abroad. She has appeared in many European Festivals, among them the Cambridge Summer Music festival (England, 2004), the 9th Kokle International Music Festival (Riga, 2004), the Aberdeen International Youth Festival (Scotland, 2003), the Haapavesi Folk Music Festival (Finland, 2002), the Vesannon Music Festival (Finland, 2001). In May 2005 she was invited to perform in the Clare College Music Society Russian Music Festival in Cambridge.

Olga's another great interest is experimentation with different instrumental combinations. She has collaborated with many Russian and foreign musicians, such as Vladimir Shulyakovsky (violin), Nikolay Mazhara (piano), Alexander Kiskachi (flute), mouth harmonica (Brendan Power), clarsach (Corrina Hewat) and more. Since 2004 Olga has been working as an organist at St. Maria's catholic church in St. Petersburg, simultaneously studying organ at the Conservatoire.